UHQ Scan - New Picture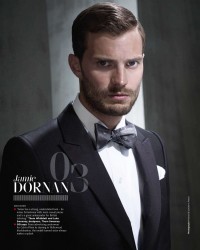 HQ Digital Scans
GQ UK
- Welcome to
GQ's
Best-Dressed Men 2015 list in association with Mercedes-Benz, a celebration of the breadth of Britain's sartorial culture, where our panel has chosen style icons that range from the trendiest of teenagers to suave screen legends in their eighties.
This, after all, is what British men do best: mixing it up and turning out some of the most original looks you can find anywhere in the world - whether it's Hackney hipsters with beards and tattoos or Royal personages sporting the very best of Savile Row and everything in between.
Of course, some of the men featured on this year's list have proved hard to escape from in the media over the past 12 months, perhaps explaining why they so readily spring to mind when the phrase "best-dressed" is mentioned, but the
GQ
panel never fails to honour those men whose sartorial savvy is too often unsung. So here's to all these great British men and their unbeatable sense of style.
#3 Jamie Dornan
"Jamie has a strong, understated look - he mixes formalwear with more casual pieces and is a great ambassador for British tailoring."
Thom Whiddett and Luke Sweeney, designers, Thom Sweeney.
GQ says:
From advertising underwear for Calvin Klein to starring in Hollywood blockbusters, the model-turned-actor always makes a splash.
Digital Scans
|
@Shades_Blog