Update: Added digital scans.
Update: Still now non-scan.
First Still from 'The 9th Life of Louis Drax'
MQ/Untagged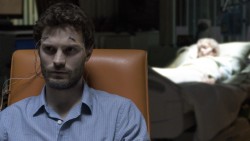 Printed Edition - UHQ Scan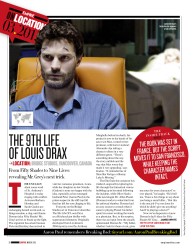 Digital HQ Scans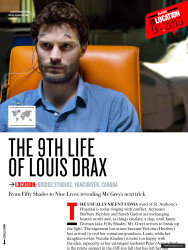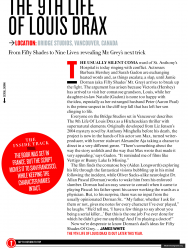 Article - New Quotes of Jamie
(Transcriped by us)

THE 9TH LIFE OF LOUIS DRAX
LOCATION: BRIDGE STUDIOS, VANCOUVER, CANADA
From Fifty Shades to Nine Lives: revealing Mr. Grey's next trick
The usually silent coma ward of St. Anthony's Hospital is today ringing with conflict. Actresses Barbara Hershey and Sarah Gadon are exchanging heated words and. as things escalate, a slap, until Jamie Dornan (aka Fifty Shades' Mr. Grey) arrives to break up the fight. The argument has arisen because Victoria (Hershey) has arrived to visit her comatose grandson. Louis, while her daughter-in-law Natalie (Gadon) is none too happy with the idea, especially as her estranged husband Peter (Aaron Paul) is the prime suspect in the cliff-top fall that has left her son clinging to life.
Everyone on the Bridge Studios set in Vancouver describes The 9th Life Of Louis Drax as a Hitchcockian thriller with supernatural elements. Originally developed from Liz Jensen's 2004 my story novel by Anthonv Mignella before his death, the project is now in the hands of his actor son max, turned writer, producer, with horror stalwart Alexandre Aja taking a change to direct in a very different genre. "There something about the way the story unfolds and the way that Max wrote that made it very appealing." says Gadon. "It reminded me of films like Vertigo or Bunny Lake Is Missing."
The film finds the comatose boy (Aiden Longworth) exploring his life through the fantastical visions bubbling up in his mind following the incident, while Oliver Sacks- alike neurologist Dr. Allan Pascal (Dornan) works to wake him from his enforced slumber. Dornan had an easy source to consult when it came to playing Pascal: his father spent his career working the wards as a physician. But, to his surprise, there was no input from the usually opnionated Dornan Sr… "My father, whether I ask for them or not, gives me notes for every character I've ever played," he laughs. "He'd tell me, 'I have a few things to say about you being a serial killer...' But this is the job I've ever done which he didn't give me anything! And I'm playing a doctor!"
Now we're desperate to know Dornan's dad's ideas for Fifty Shades Of Grey...
Empire
| Scans:
FiftyShadesFan
|
@Shades_Blog