Update: Added HQ digital scans and full transcript of the interview.
HQ/Untagged
UHQ Scans/Untagged
HQ Digital Scans/Tagged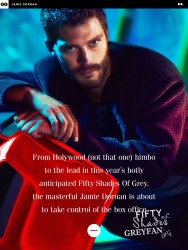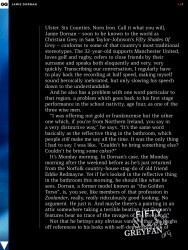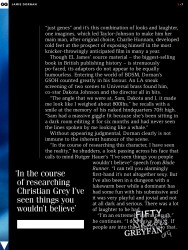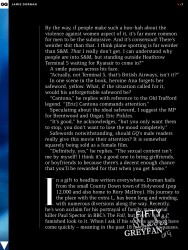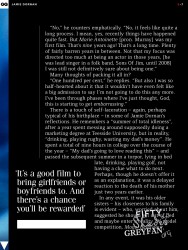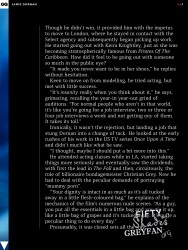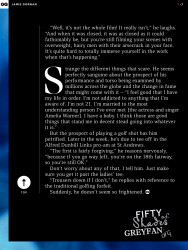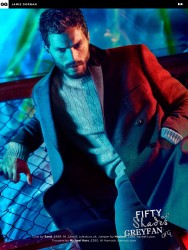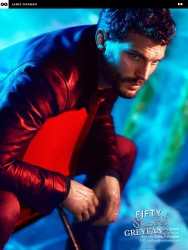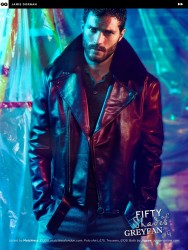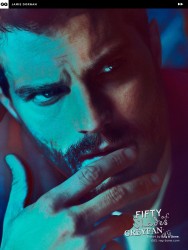 Full Transcipt
Ulster. Six Counties. Norn Iron. Call it what you will, Jamie Dornan - soon to be known to the world as Christian Grey in Sam Taylor-Johnson's Fifty Shades of Grey - conforms to some of that country's most traditional stereotypes. The 32-year-old supports Manchester United, loves golf and rugby, refers to close friends by their surname and speaks both eloquently and very, very quickly. Transcribing our conversation, I regularly have to play back the recording at half speed, making myself sound heroically inebriated, but only slowing his speech down to the understandable.
And he also has a problem with one word particular to that region, a problem which goes back to his first stage performance in the school nativity, age four, as one of the three wise men.

"I was offering not gold or frankincense but the other one which, if you're from Northern Ireland, you say in a very distinctive way," he says. "It's the same word basically as the reflective thing in the bathroom, which people still make me say all the time. It was the only thing I had to say. I was like, 'Couldn't he bring something else? Couldn't he bring some cakes?'"

It's Monday morning. In Dornan's case, the Monday morning after the weekend before as he's just returned from the Norfolk country-house stag-do of old friend Eddie Redmayne. Yet if he's looked in the reflective thing in the bathroom this morning, he should like what he sees. Dornan, a former model as known as "the Golden Torso", is, you see, like members of that profession in Zoolander, really, really ridiculously good-looking. No argument. He just is. And maybe there's painting in an attic somewhere taking a terrible beating, but Dornan's features bear no trace of the ravages of the weekend.

Not that he betrays any obvious vanity either. He laughs off references to his looks with self-deprecating talk of "just genes" and it's this combination of looks and laughter, one imagines, which led Taylor-Johnson to make him her main man, after original choice, Charlie Hunnam, developed cold feet at the prospect of exposing himself in the most knicker-throwingly anticipated film in many a year.

Though EL James' source material - the biggest - selling book in British publishing history - is strenuously po-faced, its adaptors do not appear to be equally humourless. Entering the world of BDSM, Dornan's GSOH counted greatly in his favour. An LA sneak screening of two scenes to Universal brass found him, co-star Dakota Johnson and the director all in bits.

"The angle that we were at, Sam, Dakota and I, it made me look like I weighed about 800lbs," he recalls with a smile at the memory of his naked hindquarters 70ft high. "Sam had a massive giggle fit because she's been sitting in a dark room editing it for six months and had never seen the lines spoken by me looking like a whale."

Without appearing judgmental, Dornan clearly is not immune to the inherent humour of the scene.

"In the course of researching this character, I have seen the reality," he shudders, a look passing across his face that calls to mind Rutger Hauer's "I've seen things you people wouldn't believe" speech from Blade Runner. "I can tell you alarmingly first-hand it's not altogether sexy. But I've also been in a dungeon with a lukewarm beer while a dominant has had some fun with his submissive and it was very playful and jovial and not at all dark and serious. There was a lot of laughter to be had.

"I'm an an extremely liberal person," he continues. "I don't give a f***. If people are into that they're into that. By the way, if people make such hoo-hah about the violence against women aspect of it, it's far more common for men to be the submissive. And it's consensual! There's weirder shit than that. I think plane spotting is far weirder than S&M. That I really don't get. I can understand why people are into S&M, but standing outside Heathrow Terminal 5 waiting for Ryanair to come in?"

A smile passes across his face.

"Actually, not Terminal 5, that's British Airways, isn't it?"

In one scene in the book, heroine Ana forgets her safeword, yellow. What, if the situation called for it, would his unforgettable safeword be?

"Cantona," he replies with reference to the Old Trafford legend. "[Eric] Cantona commands attention."

Speculating about the ideal safeword, I suggest the MP for Bretwood and Ongar, Eric Pickles.

"It's good," he acknowledges, "but you only want them to stop, you don't want to lose the mood completely."

Safewords notwithstanding, should GQ's male readers really give this movie their attention? It is somewhat squrely being sold as a female film.

"Definitely, yes," he replies. "The sexual content isn't me by myself! I think it's good one to bring girlfriends, or boyfriends to because there's a decent enough chance that you'll be rewarded for that when you get home."

In a gift to headline writers everywhere, Dornan hails from the small Country Down town of Hollywood (pop 12,000 and also home to Rory Mcllroy). His journey to the place with the extra L, has been long and winding, with numerous diversions along the way. Recently, he's won acclaim for his portrayal of family man/serial killer Paul Spector in BBC's The Fall, but his CV has a famished look to it. When I ask if his success seems to have come quickly - meaning in the past 18 months - he pauses.

"No," he counters emphatically. "No, it feels like quite a long process. I mean, yes, recently things have happened quite fast. But Marie Antoinette [pron. Murray] was my first film. That's nine years ago! That's a long time. Plenty of fairly barren years in between. Not that my focus was directed too much at being an actor in those years, [he was lead singer in a folk band, Son Of Jim, until 2008] I was still not definitively sure about being one."

Many thoughts of packing it all in?

"One hundred percent," he replies. "But also I was so half-hearted about it that it wouldn't have even felt like a big admission to say I'm not going to do this any more. I've been through phases where I've just thought, God, this is starting to get embarrassing."

There is a touch of self-laceration - again, perhaps typical of his birthplace - in some of Jamie Dornan's reflections. He remembers a "summer of a total idleness", after a year spent messing around supposedly doing a marketing degree at Teesside University, but in reality, "drinking, playing rugby, wasting my dad's money". He spent a total of nine hours in college over the course of the year - "My dad's going to love reading this" - and passed the subsequent summer in a torpor, lying in bed late, drinking, playing golf, not having a clue what to do next. Perhaps, though he doesn't offer it as an explanation , it was a delayed reaction to the death of his mother just two years earlier.

In any event, it was his older sisters - his closeness to his family is evident - who, worried about him, suggested he should get out of bed and maybe enter a reality TV model competition, Model Behaviour.

Though he didn't win, it provided him the impetus to move to London, where he stayed in contact with the Select agency and subsequently began picking up work. He started going out with Keira Knightley, just as she was becoming stratospherically famous from Pirates Of The Caribbean. How did it feel to be going out with someone so much in the public eye?

"It made you never want to be in her shoes," he replies without hesitation.

Keen to move on from modelling, he tired acting, but met with little success.

"It's insanity really when you think about it," he says, grimacing, recalling the year-in-year-out grind of auditions. "For normal people who aren't in that world, it's like you're going for a job interview, two or three or four job interviews a week and not getting any of them. It takes its toll."

Ironically, it wasn't the rejection, but landing a job that stung Dornan into a change of tack. He looked at the early rushes of his work in the US TV series Once Upon A Time and didn't much like what he saw.

"I thought, maybe I should put a bit more into this."

He attended acting classes while in LA, started taking things more seriously and eventually saw the dividends, with first the lead in The Fall and then, circuitously, the role of billionaire bondagemeister Christian Grey. Now he had to deal with the peculiar demands of portraying "mummy porn".

"Your dignity is intact in as much as it's all tucked away in a little flesh-coloured bag," he explains of the mechanics of the film's numerous nude scenes. "As a guy, you put all the essentials in a little bag and you tie it up, like a little bag of grapes and it's tucked away. It's quite a peculiar thing to do every day."

Presumably, it was closed sets all the way.

"Well, it's not the whole film! It really isn't," he laughs. "And when it was closed, it was as closed as it could fathomably be, but you're still filming your scenes with overweight, hairy men with their arsecrack in your face. It's quite hard to totally immerse yourself in the work when that's happening."

Strange the different thing that scare. He seems perfectly sanguine about the prospect of his performance and torso being examined by millions across the globe and the change in fame that might come with it - "I feel good that I have my life in order. I'm not addicted to anything that I'm aware of. I'm not 21. I'm married to the most understanding person I've evet met [the actress and singer Amelia Warner]. I have a baby. I think those are good things that stand me in decent stead going into whatever it is."

But the prospect of playing a golf shot has him petrified. Later in the week, he's due to tee off in the Alfred Dunhill Links pro-am at St Andrews.

"The first is fairly forgiving," he reasons nervously, "because if you go way left, you're on the 18th fairway, so you're still OK."

Don't worry about any of that, I tell him. Just make sure you get it past the ladies' tee.

"Trousers down if I don't," he replies with reference to the traditional golfing forfeit.

Suddenly, he doesn't seem so frightened.
Pictures
|
Digital Scans
|
UHQ Scans
| Interview transcripted by us