Large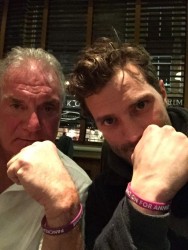 Here is some ways to help "Fight on for Annie" like Jamie and his dad Jim Dornan:
About "
Fight on for Annie
" (you can find more info there)
Fight on for Annie was set up in memory of Anne O'Neill who lost her battle to pancreatic cancer on the 30th January 2014, aged 54. Anne was the beloved wife of Tom and mum of three children, Sinéad, Fergal and myself, Gráinne.
Mummy was diagnosed with inoperable pancreatic cancer in June 2013 and was given between 4 and 6 months to live. Mummy fought the disease for seven months, she was determined to beat pancreatic cancer and reminded positive throughout her battle.
Unfortunately the cancer was too aggressive as it was stage IV which meant that it had spread from her pancreas to her liver, lungs and back.
I have set up this fund to honour and commemorate my mummy's life, she was not only a mum but my best friend.
My mummy was such a caring and giving person, always putting her children and others' needs in front of her own. I am forever thankful and blessed to call her my mummy, she is and always will be my inspiration and I want to continue to raise money and campaign in her memory.
I want to help prevent other families from having to experience this horrible disease and heartbreaking statistics. I want the survival rates to give people hope, not to fill them with fear and remove all hope for their loved ones who have pancreatic cancer. This is why I have founded 'Fight on for Annie'.
You can follow "Fight on for Annie" Charity on Twitter, Facebook and Instagram