HQ Outtake/Tagged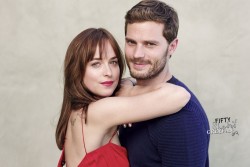 UHQ Scan/Untagged
Transcripted by us
Dakota Johnson & Jamie Dornan
The underrated Ben and Kate star and daughter of Melanie Grifftih and Don Johnson, 25, gets kinky with former Calvin Klein model Jamie Dornan, 32, in Fifty Shades of Grey, opening on February 12. Irishman Dornan - a rare talent who, thanks to The Fall, can play a serial killeri/loving father with disturbing sex appeal - promised of the S&M-themed film,
"I'm going to give it everything."
(Almost everything:
"There were contracts in place that said that viewers wouldn't be seeing my, um..."
) Griffith, who Johnson has hoped will not watch the steamy pic, could not be prouder of her daughter's rising star. "She had her mom and her dad and her grandmother [Hitchcock muse Tippi Hedren] and she's just taken us all and throw us away. She's like, "Here I am."
HQ Outtake
Scan