MQ & Resized Version/Untagged
Large/Tagged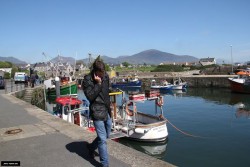 Outlook News - Hollywood glamour comes to harbour
Hearts were set aflutter last week in Annalong, as heart-throb Jamie Dornan caused waves at the harbour.
The Northern Irish-born award-winning actor was filming scenes for the second series of television drama, The Fall.
Also starring X-Files actress Gillian Anderson as Stella Gibson, the BBC drama had viewers on the edge of their seats when it was broadcast last year.
Jamie plays Paul Spector, a serial killer who is terrorising Belfast, but also leads a double life as a committed family man and bereavement counsellor.
Causing quite a stir last Tuesday morning, 27 May, the former Calvin Klein model, and lead character of next year's Fifty Shades of Grey film, was spotted on a boat and dining with his film crew at the Harbour Inn.
Annalong man Andrew Stevenson, who is skipper on the boat used for filming, says Mr Dornan was very down-to-earth.
"We went out of Annalong Harbour and up to Greencastle Pier, there were no airs and graces with him and he was just very normal, like any other man on the street. It was something different, and there was a bit of attention around the area," he said.
Mr Stevenson says it is good for Annalong to be featured in such a high profile drama.
He added: "Part of the plot was that he had just left Scotland and was heading back over to Ireland. Annalong was supposed to be Scotland, and Greencastle was meant to portray Ireland. My scene was him getting a lift back over, maybe the back of my head will be featured on television, but I don't think there will be much else of me broadcast."
Nora McKee, restaurant manager at the Harbour Inn, says Mr Dornan and his crew were easy-going customers.
The Ballymartin woman said:
"There were 38 of them dining, and he was a very nice and friendly bloke and we got a photograph of him with the proprietor, and we are going to put it on our website. The camera crew were lovely too and very friendly fellas and they had a tea and coffee station outside as well. They also ate their lunch outside too, because it was such a lovely day. They got a good day for filming, I hadn't watched the series before, but I am definitely going to watch it now."
Trevor Orr, Head Chef at the Harbour Inn, said the film crew definitely had hearty appetites.
"They came in for breakfast at 7am and they all had Ulster frys, and they were back in again for lunch later in the afternoon. I made pork kebabs and they also had herb crusted chicken, tossed salad and herb roasted potatoes too," he said.
Mr Orr added: "They definitely had good appetites and they scoffed the lot and left nothing behind them. They couldn't get over the view up here and it was such a nice day for filming."
Second picture Via