HQ/Untagged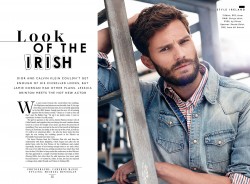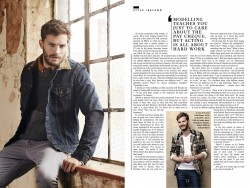 Also you can read Jamie's interview with Sunday Times Style Magazine from 2013 below
Dior and Calvin Klein couldn't get enough of his chiselled looks, but Jamie Dornan had other plans, Jessica Brinton meets the hot new actor.
We meet Jamie Dornan the week before his wedding. His Wayfarers and phone are on the table. Just 31, the age when boys start to become men, he is currently appearing in his first BBC drama. Family must be next: it's all coming together former model. "I hope so. I want to have all that," says the Belfast boy. "I'd say I am pretty ready. I want to experience it when I'm still young."


The girl in question is the actress Amelia Warner, former wife of Colin Farrell, and together they are living the West London dream, based in a house he bought seven years ago from the proceeds of modelling. They were married at the end of last month at Babington House, in Somerset, but today, in the run-upto the event, it looks as if it will be an emotional affair - he tells the shoot team that last night he was writing his wedding speech at the Electrlc on Portobello Road and burst into tears.
We know Dornan from the Christian Dior ads and from his relationship with Keira Knightley, which began soon after she hit global fame with the first Pirates of the Caribbean and ended, reportedly, because of not having enough time to see each other. (He was in bits after that, too, telling journalists how much they had been in love.) He likes to keep under the radar now, as does Warner. She has appeared in a couple of period dramas and sings as Slow Moving Millie, but other than the add interview, has never quite become famous - or wanted to, either. In fact, she has just opened a vintage shop called Found and Vision in Notting Hill.
All of this anonymity could change, of course.We're here because Dornan has lead in the drama The Fall, currently showing on BBC2, in which he plays a family man with a sinister sideline in murdering young women. It isn't his first TV role: in glossy American drama Once Upon a Time he played a sheriff who was killed of early on. But he seems chuffed with this latest character. He watched hours of interviews with the serial killer Ted Bundy, fascinated by the way he inhabited two entirely different personas. "It's so interesting exploring that side of you and trying to go behind a character. You can lead a very normal life and be good father and husband and have a good job, and still get up to the most heinous acts in your spare time."
Dornan modelled for the whole of his twenties and always seemed amazed by his own success, but Dior loved him, so did Calvin Klein. If it was still the age of the supermodel, he would have been a male version. He was a reluctant modelling star, though. Did he also have a split, then, between two different lives? "I was definitely bored." Wasn't he having murdering thoughts? "Potentially, I was."
It sounds as if the modelling set him up pretty well. Besides the house in Notting Hill, he also a country retreat int he Cotworlds - "To get away from London at the weekends. So that's two mortgages." he mutters.
Dornan is discreet about his social connections in the way that most people aren't any more. When we're having tea, we spot a friend of mine who used to work with him and remembers him being with Josh Hartnett, who'd had a fling with Sienna Miller. "Josh is a great friend, but I've learnt not to stand next to him." Why? "He's way too tall and handsome."
It's a funny statement coming from one so pretty, but I don't think he's fishing for compliments. His looks don't figure for him; it's as if he's almost embarrassed by them. He seems suprised by his success, and equally delighted not to be doing it any more. He hasn't stopped for ever, but if you want to be taken seriously as an actor, it isn't a good idea to be a model, too. "I was reluctant, but grateful in the end. It's treated me very well, which can't always be said for the industry." He's proud of Dior. "Where there's that global recognition, that's great."
For someone who hated it, he didn't do too bad: those greased-up Calvin Klein pictures with Eva Mendes and Kate Moss were hot. And for three days work in Buenos Aires for Christian Dior, he was paid for a three-year exclusivity deal. "They pay you well up front, so it looks like you're working a lot harder than you are."
For the most part, he says, these images are trying to "achieve the unattainable". What's that? "Trying to take a picture of something that isn't there." What is there, really? Dornan was born six miles from Belfast from good stock: his mother died when he was 16, his father, who has since remarried, and whom he adores ("He's an astonishing man. I find him hugely impressive in pretty much every facet of his being") was an obstetrician/gynaecologist until he retired. Dornan Jr's friends are mostly solicitors and barristers, "although to meet them you'd never believe it."
His older sisters live in London and Cornwall - one works for Disney; the other has two babies under three - but his dad still lives in Belfast with his stepmom, and when he filmed The Fall, he spent three months there. "I got an apartment in the centre of town, and on days I wasn't filming I'd go and get papers and sit in a cafe." he says. "It's a brilliant place, with brilliant people. We have our problems, but it's a tiny percentage. There's a real sense of fun, a real good-naturedness - people don't take themselves too seriously."
Does he? "I try not to. I have to be a bit more earnest in my approach now I'm acting. Modelling teaches you to just care about the pay cheque, but acting is all about hard work." He seems serious, not a player. He wrote a song once, for Sons of Jim, his short-lived band, about playing the field, but you get the impression he's actually a serial monogamist. His honeymoon is a road trip across America, and, he says, "we're taking our time to do it."
It must be difficult jumping through all the Hollywood hoops, having been so effortlessly successful at the last job. Has he ever experienced LA's famous silent "no"? "Ha! Yes, I think I've only had silent nos. There's no such thing as a bad meeting in LA. You walk out thinking that you have the job."
In the first couple of weeks of filming The Fall, he was convinced he'd be discovered as a fraud and fired, but there's talk of another series, which means he pulled it off. "They must be happy enough. I pretend not to read the reviews."
There's a picture on his Twitter called "Me on red carpet at Golden Globes,"of him in a muddy field in a pair of pink cords. "I couldn't resist," he says. He thinks that "unless you're nominated, I don't really see the point. If you can't explain why you're there, maybe don't go there." Man gets to a certain age, it's hard to see why he should.