@TowardCastle
:
"@JamieDornan joins our #iheartcastletoward campaign will you? http://bitly.com/SignourPetition #fiftyshadesofgrey"
Jamie Dornan, Actor, "The Fall" "50 Shades of Grey"
"Castle Toward has inspired countless generations of young people. To see it close its doors would be a huge loss to the artistic community of the UK".
HQ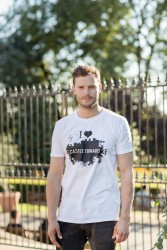 I HEART CASTLE TOWARD
Perched on a loch-side hill, Castle Toward looks down over the Firth of Clyde to the Isles of Bute and Arran. But for over 100 famous artists photographed for a campaign launched today, this isn't about protecting the impressive views. They are lining up to safeguard a precious haven that has nurtured generations of artistic talent, including some of the most famous Scottish names in music, art, sculpture and literature.
Glasgow City Council purchased the Castle Toward estate after World War II, to offer inner city children a taste of the outdoors and of the arts. Over the following decades, some 400 000 young students attended residential arts and music courses within the castle's stately walls. But as developers now threaten to move in, some of Castle Toward's most famous summer school residents are campaigning to see it secured as an artistic resource that will benefit future generations.
From renowned conductor Sir Simon Rattle to Andy Scott, sculptor of the world famous Kelpies, the campaign has united more than 100 artists, musicians and actors. Alongside an evocative gallery of portraits featuring specially designed Timorous Beasties T-shirts they tell personal stories of how their time at Castle Toward proved career defining.
"I have immensely happy memories of my time in Castle Toward, working with the Glasgow Schools Symphony Orchestra.... it was obvious that the location had a profound effect on all the young musicians. It is exciting to think that this great building may once again be a hub for music, such an important step forward. I would urge everyone to support this development: It would be a treasure for many generations to come."
Sir Simon Rattle, June 2015
This campaign is now calling for the present owner of Castle Toward, Argyll & Bute Council, to protect this treasured Scottish icon from development, and to work together towards restoring the Castle to be the flourishing hub for youth arts and sport that it once was. The campaign believes that within the ethos of Culture for Life, this project can attract funding from Scotland, the UK and further afield.
This new and independent campaign is not aligned with any political interest or previous activity. Its aims are simply to bring prosperity, increased visitor footfall, credit and artistic prominence to Argyll and Bute.
Supporters and Alumni include:
Sir Simon Rattle
Fran Healy (Singer, Travis)
Brian Cox C.B.E
John Carewe (Conductor/Director GSSO at Toward)
Andy Scott (Sculptor, The Kelpies)
Robert Patrick (Actor, Terminator 2, True Blood)
Ricky Ross (Singer, Deacon Blue)
Kirsty Wark (Broadcaster, BBC)
Laura Fraser (Actress, Breaking Bad, A Knight's Tale)
Joanne Froggatt (Golden Globe Winning Actress, Downton Abbey)
Jamie Dornan (Actor, The Fall, 50 Shades of Grey)
Alison Watt O.B.E (Artist)
John Lowrie Morrison O.B.E ('Jolomo', Artist)
Jude MacLaverty (Director, BAFTA Scotland)
John Maxwell Geddes (Composer/Conductor GSSO at Toward)
Eddie McGuire (Composer)
Liz Lochead (Scots Makar, Poet)
Paul Simmons (Designer, Timorous Beasties)
Craig Armstrong (Composer, Moulin Rouge, The Great Gatsby)
William Conway (Cellist/Conductor)